* If a fire started in your home, would you know what to do and where to go? **




1. Talk Smoke Detectors
Teach children about smoke detectors: Why they are installed, how they work, and the sound that they make. Children need to be able to associate the sound with a fire. Adults should change batteries regularly to avoid having the alarm go off because its battery is low; this could frighten a child.
Firefighters recommend changing your smoke detectors' batteries every time you turn your clocks ahead or back for Daylight Saving Time.


Smoke Detectors 101 - Different Types of Detectors
Most homeowners don't know that smoke detectors come in two types: ionization smoke detectors and photoelectric smoke detectors. At this point you might wonder why anyone even bothers with knowing the difference.
While it may not be make for the most riveting article to read, knowing how ionization and photoelectric detectors work differently can potentially save your life one day.
Ionization Smoke Detectors
This type of smoke detector uses ionized particles to detect the presence of smoke. Each ionization smoke detector holds a tiny amount of radioactive material, which is placed between two electrically charged plates. The reaction between these components causes the ionization of air. This in turn creates a current between the two plates.
When smoke gets into the detector, the current is disrupted and the alarm is triggered. Ionization smoke detectors are know to work better with flaming fires—these are fires with aggressive, open flames. Their effectiveness with other types of fires, such as smoldering fires, isn't as great. That is why we have another type of smoke detector.
Photoelectric Smoke Detectors
The second most popular type of smoke detectors are photoelectric detectors. Unlike ionization detectors, these detectors use a light source and a light sensor to detect smoke.
Once the smoke enters the detection chamber, the smoke particles block the light beam and partially reflect light onto the sensors. This in turn trips the alarm.
Since many smoldering fires fill the room with dangerous fumes and smoke way before progressing to the open-flame stage, these type of detectors tend to be better at early detection.
Different Power Supply Options
Now that we have covered the main types of smoke detectors, we need to touch upon different ways of supplying power to the detectors. There are generally two options, both of which work, but one of option is definitely a safer and more reliable choice.
Battery-Powered Detectors
Most detectors out there are powered by batteries. Since smoke detectors in general don't use a lot of power, many of these battery-powered models require very little maintenance on a yearly basis.
However, every battery has a limit and you don't want to find yourself in a fire with a dead smoke detector. There is nothing inherently wrong with battery-powered smoke detectors, but you have to be absolutely vigilant about replacing spent batteries.
Hard-Wired Smoke Detectors
The alternative to battery-powered smoke detectors are hard-wired detectors. As their name implies, these detectors are wired straight into your home's electrical system. Generally speaking, this method of supplying power to the entire network of smoke detectors is much more reliable and requires less maintenance.
Best of all, while these detectors still require batteries, batteries are not the primary power source. Rather, batteries act as the emergency power source to ensure you're still protected in the event of a power outage.
In Massachusetts, homes built between 1975 and 1998 must have hard-wired interconnected smoke detectors outside the bedrooms and one detector per floor.
How to Make the Most of Your Smoke Detectors
Smoke detectors, no matter the type, are your first line of defense against fires. Despite that, many homeowners tends to neglect them. Just by regularly replacing the batteries in your smoke detectors , you are greatly reducing your chances of becoming a victim of a house fire.
Smoke detectors won't help you if they have dead batteries. If you really want to stay on top of this issue, we strongly suggest that you install hard-wired smoke detectors in your next remodeling project.
Understanding the Importance of Smoke Detectors
There is much more to smoke detectors than most homeowners think. The truth is, even in brand new buildings and houses, smoke detection systems can be poorly designed and less effective.
Your responsibility as a homeowner or tenant is to ensure that you have adequate smoke detector coverage. Investing in this safety measure will pay back in dividends if you end up experiencing a house fire.



2. Plan Escape Routes

How to make a home fire escape plan
Your ability to get out of your home during a fire depends on advance warning from smoke alarms and advance planning
Fire can spread rapidly through your home, leaving you as little as one or two minutes to escape safely once the smoke alarm sounds. A closed door may slow the spread of smoke, heat and fire. Install smoke alarms in every sleeping room and outside each separate sleeping area. Install alarms on every level of the home. Pull together everyone in your household and make a plan. Walk through your home and inspect all possible exits and escape routes. Households with children should consider drawing a floor plan of your home, marking two ways out of each room, including windows and doors.
XXXXXXXXX

This video is intended to convey safety messages in a light hearted entertaining way. It is not intended for children. (Adults should play an important role in reinforcing safety messages for children.)
Free escape planning tools
Escape grid
Use our free fire escape grid to draw a floor plan of your home. Show all doors and windows and two ways out of every room. Mark two ways out of each room
https://www.nfpa.org//-/media/Files/FPW/Educate/2019/FPW19Grid.pdf


Safety tip sheet
Fire can spread rapidly leaving you as little as one or two minutes to escape your home safely once the alarm sounds.
https://www.nfpa.org//-/media/Files/Public-Education/Resources/Safety-tip-sheets/EscapePlanningTips.pdf


Escape planning tips
Pull together everyone in your household and make a plan. Walk through your home and inspect all possible exits and escape routes. Households with children should consider drawing a floor plan of your home, marking two ways out of each room, including windows and doors. Also, mark the location of each smoke alarm.
A closed door may slow the spread of smoke, heat and fire. Install smoke alarms in every sleeping room, outside each sleeping area and on every level of the home. NFPA 72, National Fire Alarm Code® requires interconnected smoke alarms throughout the home. When one sounds, they all sound.
When you walk through your plan, check to make sure the escape routes are clear and doors and windows can be opened easily.
Choose an outside meeting place (i.e. neighbor's house, a light post, mailbox, or stop sign) a safe distance in front of your home where everyone can meet after they've escaped. Make sure to mark the location of the meeting place on your escape plan.
Go outside to see if your street number is clearly visible from the road. If not, paint it on the curb or install house numbers to ensure that responding emergency personnel can find your home.
Have everyone memorize the emergency phone number of the fire department. That way any member of the household can call from a neighbor's home or a cellular phone once safely outside.
If there are infants, older adults, or family members with mobility limitations, make sure that someone is assigned to assist them in the fire drill and in the event of an emergency. Assign a backup person too, in case the designee is not home during the emergency
If windows or doors in your home have security bars, make sure that the bars have emergency release devices inside so that they can be opened immediately in an emergency. Emergency release devices won't compromise your security - but they will increase your chances of safely escaping a home fire.
Tell guests or visitors to your home about your family's fire escape plan. When staying overnight at other people's homes, ask about their escape plan. If they don't have a plan in place, offer to help them make one. This is especially important when children are permitted to attend "sleepovers" at friends' homes.
Be fully prepared for a real fire: when a smoke alarm sounds, get out immediately. Residents of high-rise and apartment buildings (PDF) may be safer "defending in place."
Once you're out, stay out! Under no circumstances should you ever go back into a burning building. If someone is missing, inform the fire department dispatcher when you call. Firefighters have the skills and equipment to perform rescues.
Put your plan to the test
Practice your home fire escape plan twice a year, making the drill as realistic as possible.
Make arrangements in your plan for anyone in your home who has a disability.
Allow children to master fire escape planning and practice before holding a fire drill at night when they are sleeping. The objective is to practice, not to frighten, so telling children there will be a drill before they go to bed can be as effective as a surprise drill.
It's important to determine during the drill whether children and others can readily waken to the sound of the smoke alarm. If they fail to awaken, make sure that someone is assigned to wake them up as part of the drill and in a real emergency situation.
If your home has two floors, every family member (including children) must be able to escape from the second floor rooms. Escape ladders can be placed in or near windows to provide an additional escape route. Review the manufacturer's instructions carefully so you'll be able to use a safety ladder in an emergency. Practice setting up the ladder from a first floor window to make sure you can do it correctly and quickly. Children should only practice with a grown-up, and only from a first-story window. Store the ladder near the window, in an easily accessible location. You don't want to have to search for it during a fire.
Always choose the escape route that is safest – the one with the least amount of smoke and heat – but be prepared to escape under toxic smoke if necessary. When you do your fire drill, everyone in the family should practice getting low and going under the smoke to your exit.
Closing doors on your way out slows the spread of fire, giving you more time to safely escape.
In some cases, smoke or fire may prevent you from exiting your home or apartment building. To prepare for an emergency like this, practice "sealing yourself in for safety" as part of your home fire escape plan. Close all doors between you and the fire. Use duct tape or towels to seal the door cracks and cover air vents to keep smoke from coming in. If possible, open your windows at the top and bottom so fresh air can get in. Call the fire department to report your exact location. Wave a flashlight or light-colored cloth at the window to let the fire department know where you are located.
Clear Your Escape Routes
Items that block doors and windows in your home could keep you from escaping in the event of a home fire. And that could mean the difference between life and death. So unblock your exits today! Key to your family's safety is planning and practicing a home fire escape plan twice a year. Start by identifying two escape routes out of each room, if possible, then make sure that each of those escape routes can be used safely by everyone. Download the "Clear Your Escape Routes" brochure in English or Spanish.

3. Practice Opening Windows
Make sure that windows, especially in bedrooms, are not stuck closed, that screens can be removed quickly, and that security bars can be opened. Older kids should learn how to complete these tasks on their own in the event of an emergency.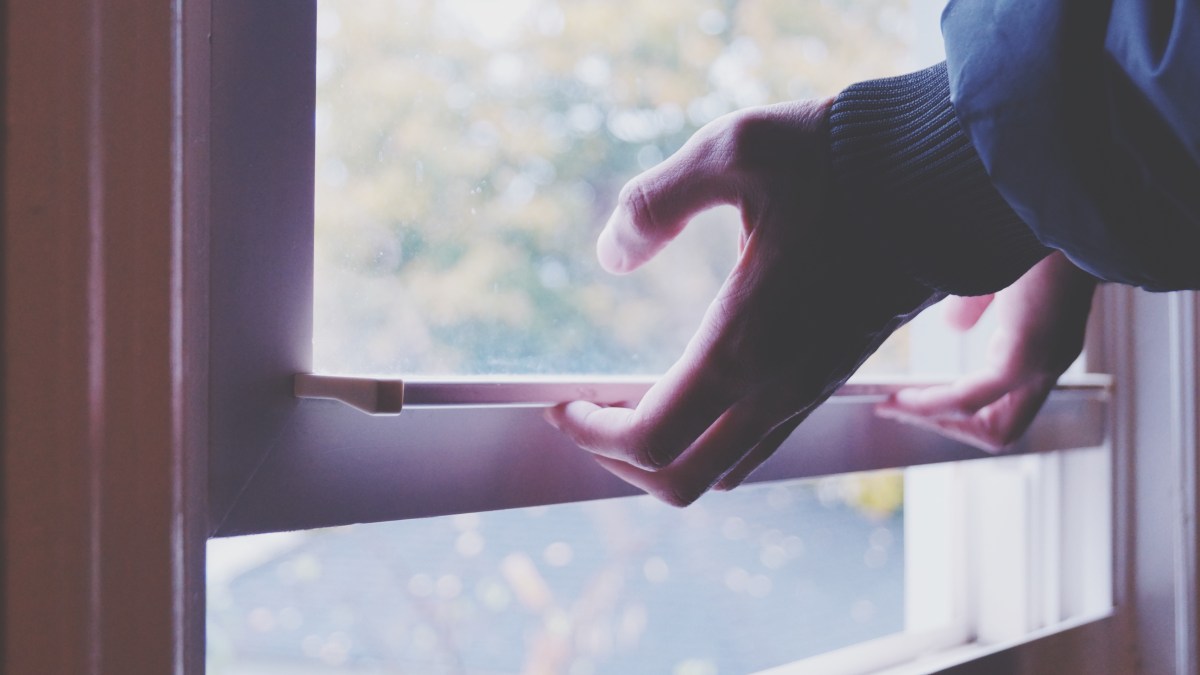 4. Use Escape Ladders
Place escape ladders near second-floor bedroom windows, and have children practice using them. For very young kids, you may want to practice a first-floor window exit just to give them some idea of what to expect.





5. Touch Door and Check For Heat
Instruct kids how to check doors to see if they are hot, and if so, how to find another way out. Fire safety for children includes having them find a towel to use for handling, touching or grabbing items to avoid burns and to also use the towel or cover to protect their faces and cover their mouths.

If both exits of a room are blocked, kids should get as low as possible. Lie on the ground, near the bed if possible; that's where firefighters will look for them.


6. Use Your Hands, Not Your Eyes
Children should practice feeling their way out of the home in the dark or with their eyes closed. Turn this into a game by blindfolding your child and asking them to feel their way to a designated area. Daycares and childcare providers can set it up as an obstacle course, and then provide cues and help so that when they reach a designated endpoint, a special treat awaits. (It could be as simple as lunch served outside.)

Teach children what to do in the event that their clothes catch fire. Make sure they understand "stop, drop, and roll." Act it out for them and have them practice with you. Many fire-related injuries can be avoided or minimized if a child heeds this advice instead of running.

Teach children that once they are out of a burning house or building, they must go to the designated meeting place and never, ever venture back in. If a family member or a pet is missing, they should inform a firefighter or adult. There are too many tragedies where an individual who has gotten out safely ventures back into the home or building.



9. Practice Monthly
Practice your escape plan at least twice a year; monthly is even better. Just like schools, child care centers and homes should also practice fire drills.